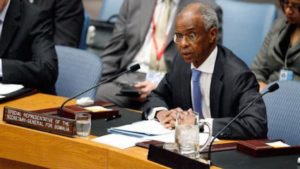 « The only thing we have to fear is fear itself, » proclaimed President Franklin D Roosevelt to his compatriots struck by the Great Depression. Ninety years later, that message remains valid against the Covid19.
Striking both the strongest states as well as the most fragile, Covid 19 has emerged as a global disaster to all. All concerned and confined. Continuing to decimate, it forced practicality and left little room for charlatans and political demagoguery. By all this, it calls for a response, certainly national but also international.
A crisis like no other: global.
Murderous, Ebola, H1N1 and other pandemics remained in geographic regions with no major role in international economics or diplomacy. On the contrary, rapid and in no way selective, Covid19 brutally struck all countries and in particular the most productive and best organized.
Geographical distances having disappeared, globalization obliges, everyone, with or without virus, is confined and the concept of security brutally took a new dimension. It is no longer linked to the mere mobilization of armies against an external enemy equipped with troops and cruise missiles. We are  perhaps witnessing the first of the conflicts of the future which will be climatic, environmental, irregular migrations.  The shortage of sanitary masks cannot mask that reality.
Suddenly destitute, regional cooperation struggles to keep pace with the pandemic. Frozen in rigid mandates and practices, some regional organizations, however seasoned, reacted more than acted, thus giving a step ahead to the pandemic. Not having perceived the severity of Covid19, they risk being its collateral victims.
National states and international relations.
In the face of an imminent attack, the African response must be practical, decisive and swift. In preparation for the announced chaos and the emergency in which countries are going to find themselves soon, appropriate responses must be put in place. First by national governments and that  is not a lip service. Rich or poor, states have the capacity to cope with emergencies. They could discover the « Black Swan », that is to say, what exists and which they do not know or did not want to know of.
The first is to impose, through rigor and exemplary behavior at the top, the obligation of discipline. Media and other social media campaigns should help. Then assisting those who live without fixed or very low income, that is to say the informal sector workers, those in rural areas, retirees and women heads of households.
At the economic level, it is an illusion to believe that African economies are homogeneous when they are rather heterogeneous and therefore require responses on a case-by-case basis. The crisis will necessarily have mixed impacts. Transport, mining and tourism – where it is significant – will suffer. On the contrary, the fall in oil prices should benefit importing countries, the majority of states, but could affect the search for gas. Agricultural production, victim of international dumping and national demagogic policies, shielding it from modern investment, should be a winner.
Furthermore, extra rigors in the management of public funds will help the fight against pervasive  corruption and free up unbudgeted funds. Domestic debt payments, although often of questionable origin, are expected to inject more resources into national economies.
At this level, continental financial institutions such as the African Development Bank, Afreximbank and Badea should make their technical and financial contributions to the combat. Indeed, it will be necessary to negotiate and succeed in suspending payments of the external debt. The international response – The World Bank, the International Monetary Fund, should join national efforts. More flexibility, through negotiations conducted by able experts, there are some nationals, which will lead to targeted loans and grants for the most fragile countries such as those in the Sahel. For efficiency, their actual use should be quick and transparent.
These efforts will encourage people to believe and support their leaders. Leaders confronting other struggles such as terrorism and various forms of trafficking.
What about terrorism and trafficking.
If trafficking is likely to flourish more – less police forces to keep track of them and ample free space to move around – what about internal conflicts, those linked to terrorism? If only, as the United Nations Secretary General Antonio Guterres said, we could « contain conflicts »! But this is not yet the case.
In the Sahel Sahara attacks and hostage taking are expected to intensify. Terrorists are already taking advantage of the current confusion and fear to launch disinformation campaigns aimed primarily at reassuring their hesitant fighters and demoralizing their adversaries. In fact, the establishment of confinements and the surveillance of borders impose new tasks on the security forces, thus ensuring more space for the radicals. As elsewhere, terrorists in the Sahel do not like news that puts them in the background.
In that sense, while in the short term the fight against the Covid 19 competes with them in the news headlines, it however helps them in their anti-Western campaign. The sight of western countries, helpless in the face of the pandemic and supplied with masks and sanitary equipment manufactured by China and transported by Russia – yet both eradicating countries – allows them to bet on a «  sure victory in front of rapidly declining infidels ». That is a blessing message to their fighters who only ask to believe. Ultimately, the coherence and effectiveness of the response of African governments to Covid 19, with the support of citizens, will be the turning point in the fight against terrorism. Unfortunately, in a volatile context, nothing can be excluded.
But as Roosevelt said, only fear is to be feared. Ultimately, the Covid19 and future pandemics will not be defeated in Africa by confinement alone. Their origins and propagations can only be overcome by more transparency and more discipline. Two ingredients which remain today true guarantors of good health for all, rich and poor.